ABOUT THE ARTIST

Ganapati played in bands in Los Angeles from an early age, fell in love with classical music in school (how does Stravinsky do that?) and spent four years studying music in college before starting a recording studio where he worked with artists and producers from Rikki Lee Jones and Jackie DeShanon to Egyptian Lover and WASP, and he produced artists such as The Chambers Brothers, Xeron,The Pearls, The Scam, and pre Christian Death "Pompeii 99". During this time he took up belly dancing because he loved to dance (a natural facet of a love of music), wanted an additional outlet to perform (that didn't require weeks on the phone setting up fruitless auditions that were required for an excellent lead guitarist in a city overflowing with excellent guitarists), and had a bit of a post feminist iconoclastic sense of breaking up preconceived notions of gender roles.
Ganapati started studying belly dance with Diane Weber (who his college sweetheart had previously studied with). The foreign, and sometimes sublime sometimes bordering on cheesy, music that he practiced to made an impression, though the range of instruments he played at that time only included the percussion instruments dumbec and riqq which were particular to the Middle East (he first learned to play "Aziza" and "Lelet Hop" on the Appalachian dulcimer),
So when Ganapati devoted himself to working on his own music a natural curiosity arose: to see what he could do in the style of the music he had been practicing to, which resulted in the affectionate, exaggerated parody style of the last ten pieces on the "Experiments in Araby" album. It is somewhat ironic that the earliest completed pieces on the "Experiments in Araby" album were perhaps more suited to the musical intensity and electronic fusion that is used in "Tribal Belly Dance" before it existed as such, and the most recently completed pieces are more Cabaret/ nightclub orchestra styled. (See More Dance Photos)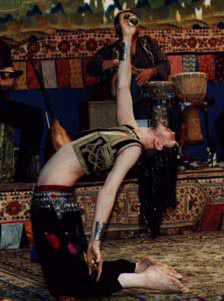 Ganapati continued to perform as a male belly dancer, performing solo and with the Perfums of Araby troupe at shows with belly dance luminaries such as Horacio Cifuentes, Delilah, and John Compton, at festivals, benefits, restaurants, nightclubs and the Oregon Country Fair and Renaissance Faires. Being one of the few male belly dancers, there would be curiosity as to what a male belly dance would be like.

During his formative time as a dancer Ganapati studied belly dance with Diane Weber (who played a role in Southern California similar to what Jamila Salimpour played in Northern California, except that Diane Weber had sons instead of a daughter so her legacy was not carried on), Mezmera (Laurie Rose), Samisha, Dahlena, Horacio Cifuentes, Suhaila, John Compton, Bobby Farrar, Deliliah,Kamal, Amira and a host of others. He drew from each what seemed to work with his body and temperament and developed an ambitious style with Egyptian cabaret underpinnings and aiming for dramatic big gestures and accents. With roots as a musician he wanted to amplify the expression in the music with his dance.

Horacio Ciruentes, John Compton, Aziz, Mohamed, Kamal, Jeremy and Alfredo constituted the male belly dancers regularly performing at diverse venues on the West Coast at the time, while there were hundreds of female belly dancers. Horacio Cifuentes encouraged Ganapati to enter the "Mr. America of the Belly Dance Competition" (cheesiness was sometimes part of the charm of the belly dance world, like Middle Eastern musicians in a small falafel restaurant announcing every dancer as "all the way from Las Vegas" as high compliment. (Well, this was cheesy in the late 80's before Steve Wynn and Cirque Du Soleil etc. Las Vegas hadn't really started having entertainment of particularly artistic merit).

MUSICIAN

At the Renaissance Faires, in addition to dancing, Ganapati played dumbec and percussion to accompany the oud player Henri Bessacon, with Don Brown playing Middle Eastern reeds. Though the prospect of playing a fretless instrument was daunting (somehow playing viola de gamba in college didn't assuage that apprehension), it seemed that there was an overabundance of dumbec players, and a notable paucity of melodic instrumentalists available for belly dance performing. So Ganapati got a Turkish stringed instrument called a "saz", which had frets but was really more an instrument used for Sufi music than for belly dance, and more daringly, a fretless Turkish instrument known as "Cumbus", which was only $180 -so if he couldn't learn to play, it would look good on the wall as a conversation piece at that price. The Cumbus was played like an oud but had a banjo-like body which gave it a wiry banjo-like tone, as well as suiting it to the rigors and climatic extremes of renaissance faires. From Cumbus the transition to the more commonly heard oud was not dramatic.

Though Ganapati had a strong background in music, he didn't have instruction in saz or oud. Henri Bessacon told him the common tuning for the instruments, and Ganapati taught himself, developing a style that might not appeal to cultural reconstructionist tastes, but has a little more rock and roll and harmonic content that provides interest as an artistic exploration.
He has been privileged to be playing with California legend Armondo "Uncle Mafufo" (of "Sirocco") and Michael Gruber. As the trio "Oriental" they have played for dancers ranging from "babydancers" to "Superstars of Bellydance." The love of the synergy between musician and dancer makes this an ongoing adventure with much synchronicity where the musicians and dancer ride a wave of spontaneous correspondence that was not the result of plan.

Though there is an outline of a form, and sometimes exact repetitions of the music are done, every performance is different and usually the form is loosely adhered to and things can go in any direction at any time.
Since Ganapati is a dancer as well as a musician he is particularly attentive (usually, though sometimes the best thing for a dancer is a musician who is totally absorbed in their music), to what might support a dancer.

HAMSA LILA and Other Collaborations

Ganapati has played cumbus, oud and other "exotic" instruments in performances with Suzanne Sterling and "A Musical Prayer" with M.J. Greenmountain. He has also worked extensively with, produced, toured and recorded with Hamsa Lila, playing many festivals and venues including the Fillmore in San Francisco. Hamsa Lila is a unique fusion of styles from around the world that coalesce into an experience that can be a deep spiritual experience for those so inclined (Hamsa Lila holds an intent that helps make this natural, even for some who are not expecting it), or an amazing party to other people.
Lately Hamsa Lila has become a rare treat. I recommend if you have a chance to experience a performance by Hamsa Lila do it when it's available.
Oh, by the way, regarding the "deep spiritual experience", uh, Hamsa Lila rocks!
They get put between D.J. sets at raves and Burning Man as one of the few bands that has the capability to hold down the bass heavy trance groove, in addition to subtle (and sometimes not so subtle) focused spiritual elements.


Home -- About the Music-- About the Artist -- Ganapati Dance Photos --Order -- Contact -- Etudes Oriental, the next album -- Links --Credits